"The ex-factor: Letting go and Developing Healthy relations with your ex spouse/lover/partner"
"Your ex:ex-affairs": How to let go of your-ex
Relationships may be difficult, complicated and/or challenging sometimes, but relating to your ex wife/husband or an ex-lover can be even more complicated; especially when you find yourself in a situation where yours or your partner's ex wouldn't let go. The sad truth is that, there will be exes, and most of us will have to learn how to let go of them at some point or another.
"What exactly is letting go and how does one lets go of an ex-lover/partner/spouse?"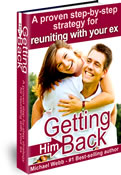 Dumped? Cut your losess and move on!
What does it mean to let go and move on? Does it imply 'not feeling the pain' of the break up? Is it stopping to love and care immediately? No. Letting go is not necessarily the absence of pain or even the absence of feelings for your ex. The feelings might still be present, they form a part of the healing process. Pain might still be there, but you need to make a decision to move on.
You need to prepare yourself for this letting go process, even before the break-up. Yes, counsel yourself against being ditched/dumped. Be self-assured enough to visit this issue in your relationship, when all is still well. You need to be very mature about it, or you may well become the ex from hell you never thought you could be.
Setting yourself and your ex free: how can one move on?
"Exes - How to move on":
* Eliminate feelings of guilt and unworthiness. You won't be able to move on healthily if you blame yourself (or the ex for that matter) for the break up. If you can't help blaming yourself, try forgiving yourself, especially if what you've done / haven't done has directly led to the break-up.
* Don't let the break-up break you. Realise that it is over and try and make peace with it. Look forward to the beginning of a new chapter in your life. Engage yourself in different activities (Remember that crazy hobby you gave away when you met your ex?).
* For goodness 'sake, try to get along if there are children involved. Chldren need both of you and it is in their best interest that you get along healthily. Resolve your differences and think with your head.
* Seek counselling if you have to or if you feel that you need to.
* Be determined to break-up with your ex!
Okay, so your case is different and you absolutely 'MUST' get your-ex girlfriend/ex-boyfriend/ex-husband or ex-wife back regardless of what we've been saying and you must have them back ASAP?
GETTING YOUR-EX BACK!
If you simply must fix things in your broken relationship; If you think all these "letting go and moving on business" isn't relevant to you and your circumstances - we do not and will not judge you. We respect your decision and will actually refer you to resources that are likely to help you attain just that, because they have and are assisting a lot of hurting exes...There's hundreds of these resources available, but we strongly recommend these 2...You will soon know why. We can only hope it will be good for both of you. CLICK HERE TO LEARN FROM AN EXPERT BEFORE IT'S TOO LATE FOR YOUR RELATIONSHIP!
MAKE-UP WHILE YOU STILL CAN!



NEED DEBT COUNSELING?

Forgive, forget, let go and move on!

Don't enter a relationship on a rebound after your breakup

Romance: (not with your ex though)

Age gap issues: what is appropriate, what is not?

It's ok to apologise to your ex and still move on

Dating again? Do it for the right reasons

Empty nest syndrome: how to cope when the house has become bigger

Are you commitment phobic?

Being in a friendship with the opposite sex

When loneliness kicks in

Having children out of the wedlock

Thinking of getting married again? Prepare for it!

Men abuse: do men get abused?

Second or third marriages: exes, exes

What do women want? Learn and avoid a break-up

Step parents (usually have to deal with exes)
"RECOMMENDED BOOKS ON LETTING GO" AND "RECOMMENDED BOOKS ON GETTING BACK TOGETHER"
HELPFUL BOOKS ON HOW TO DEAL WITH A FORMER LOVER OR FORMER SPOUSE; HOW TO SURVIVE A DIVORCE / HOW TO SURVIVE A RELATIONSHIP BREAKOWN OR MARRIAGE FAILURE; AND HOW TO WIN YOUR EX-LOVER OR EX-WIFE/EX-HUSBAND BACK!
CLICK HERE TO LEARN FROM AN EXPERT BEFORE IT'S TOO LATE FOR YOUR RELATIONSHIP!