"TWINS SURVIVAL GUIDE"
"TWINS SURVIVAL GUIDE" / "TWINS SURVIVAL KIT"
If you're an expectant parent/mom of twins you probably are worried about issues like time to get dressed or showered in the morning; the last time you exercised was running out of the hospital door after a pregnancy scan confirmed twins. And you haven't read anything more high-brow than the back of a tin of Formula in months. You certainly don't have the time to scour the Internet for advice on twins and read forty seven, largely irrelevant, baby and twin books. So here it's all been done for you.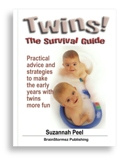 THE ULTIMATE TWIN-SURVIVAL BOOK
'Twins – The Survival Guide' is the result of authour's own experience and that of many other twin moms
If you already have twins and want to make your life easier, if you want more time to play with your twins and perhaps your other children, more time with your partner. Even if all you want right now is just more sleep, I guarantee you will immediately find ways to achieve all of this and very much more, with This, the ultimate twins survival guide… Practical Help And Advice From A Mother Of Twins For Parents Expecting Or Bringing Up Twin Babies. ! A perfect gift for that friend who just learned with a mix of excitement and terror that multiples are on the way!

IMPROVE YOUR CHANCES OF CONCEIVING TWINS OR JUST ONE

EGG-FREEZING

FROM TWINS SURVIVAL GUIDE TO WANTING 3 KIDS!

CHOOSING THE GENDER OF YOUR TWINS